Woman stabbed in amusement park Wimpy
---
November 27, 2018
Hayling Island
---
---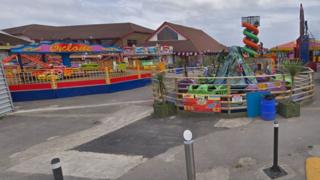 A woman was stabbed during a "dispute" between two members of staff at an amusement park burger bar.
The 21 -year-old was taken to hospital after the assault at the branch of Wimpy on Saturday.
Funland Amusements said two workers had a "domestic dispute" in a closed-off region of the premises on Hayling Island, Hampshire, at about 15:00 GMT.
A 20 -year-old man, from Havant, has been arrested on mistrust of attempted slaying, police said.
Hampshire Constabulary said the woman, from Hayling Island, had "suffered stab wounds" and adopted in order to Queen Alexandra Hospital.
The Wimpy is part the Funland Amusements complex, which contains rides and arcades.
A spokeswoman added: "Her injuries are not life-threatening. At the present stage we believe this to be an isolated incident."